Cryptonit.net Review
Pro
modern and practical to use handy video tutorial well established company since 2012 Yubikey OTP
Contra
non-use of credit cards for withdrawals live chat is not available
Languages
Russian, Spanish, German, Italian, Chinese
Company
Cryptonit Solutions Ltd
Company Location
England and Wales
Supported Countries
all countries that allow cryptocurrencies
Mobile App
Android App coming soon
Authentication
two-factor-authentication (Google Authenticator) Yubikey OTP
Bitcoin Trading
BTC-LTC, BTC-NMC, BTC-PPC, BTC-USD, BTC-DOG, BTC-EUR
Requirements
username, e-mail
Fees
trading fees 0.15%, deposit/withdraw fees depend on payment method
Supported Credit Cards
VISA, Master Card
Cryptonit.com is a UK based company that was founded in 2012 and has managed to establish its reputation as a reliable platform for exchanging Bitcoins and other cryptocurrencies. Since there is such great competition in the field of online currency exchange platforms, it is worth taking a detailed look at all the aspects of this company in the United Kingdom. After that, the verdict will be displayed – so, let's get started!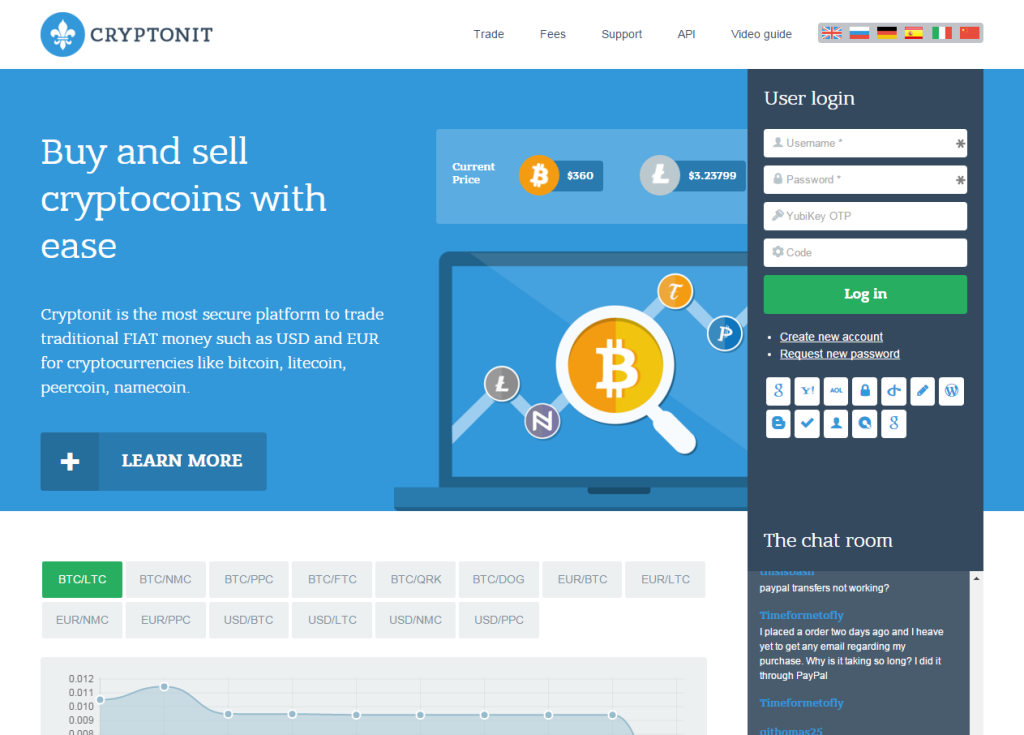 Cryptonit.net Availability
Cryptonit.com is available in quite a few languages, besides English. To be more specific, you can navigate the site in Russian and Spanish, German, Italian and Chinese. Being available in more languages, you respect the individual needs of every single customer and not just the English native speakers and fluent users. This is a huge asset, when it comes to international financial transactions. As the services do not have any limitation, Cryptonit.com wins the game here!
As far as the payment methods are concerned, there is also great versatility and detailed outline for customers. As you can see at their respective section, they can accept a variety of different payment methods. You can deposit money using Visa and MasterCard, Skrill and PayPal WPS, Western Union and MoneyGram, as well as many other options.
On the other hand, when it comes to withdrawing funds, you can use PayPal and International Wire Transfer, Western Union and Vouchers, but not credit cards. Look at the fees you are expected to pay and the days you will have to wait and decide which option is the best for you.
Of course, credit cards can be a great alternative in financial transactions and therefore using them for both deposits and withdrawals would be perfect.
Cryptonit.net Reliability
Cryptonit.com is a company in the United Kingdom. At their regulations, you can read all about their anti-money laundering guidance. The site is McAfee secured, verified by GeoTrust and Cryptonit.com is a silver member of Bitcoin Foundation.
Along with the HTTPS encryption and the fact that you will need YubiKey OTP and a code to enter the site, besides your password and username, this is a reliable platform that does its best to ensure you do not feel threatened in any way.
From 2012, they have established their reputation and they are holding on to it, with versatility in the payment methods and the cryptocurrencies that they offer.
Cryptonit.net Security
As we have stated earlier, cryptonit.com takes matters of security seriously and this is depicted in the detailed Privacy Policy and AML regulations that they have outlined. Another eloquent proof of being serious about security is the fact that they have got a thorough sign-in process, including more information than the usual password and username.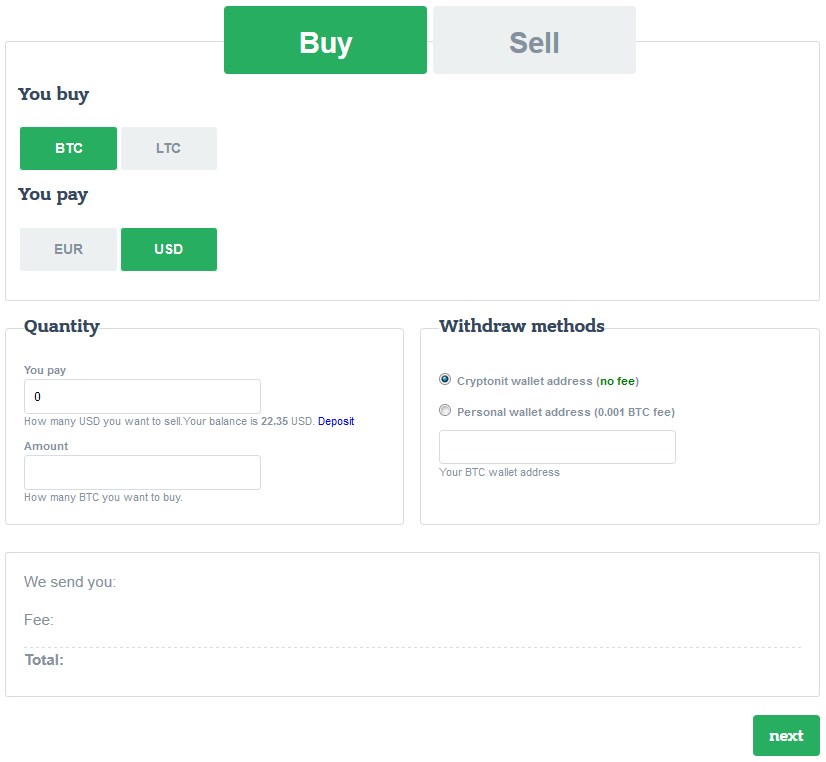 The same goes for requesting a new password. You cannot do that simply by handing over your email, but you need extra credentials. This might seem a bit tiring, but in fact this is a great means of protection that should not be overlooked.
Cryptonit.net User Experience
The site of Cryptonit.com is really modern and practical to use. There is no lagging and the information you will need is readily waiting for you to click on. Apart from the cool navigation, they have got a video tutorial that you will find pretty handy.
Instead of describing what you need to do to get your hands on some cryptocurrencies and reading endlessly, you can simply watch the videos and learn all you want. The chart with the prices of Bitcoins and such is also useful and is available on their home page. Alongside the news and chat room, the home page is filled with knowledge and you should not ignore it!
Cryptonit.net Support and Availability
Last but not least, the support quality and availability of cryptonit.com is an aspect that needs to be discussed. According to their own words from their support section "There are several ways to contact the team of Cryptonit.
Depending on situation one way might be more appropriate than the other." You can submit a ticket online and write everything you wish to ask, with a direct response coming your way on your email. If you want to contact them over the phone, support is available: 10am – 6pm GMT, Monday-Friday and it is offered in both English and Russian.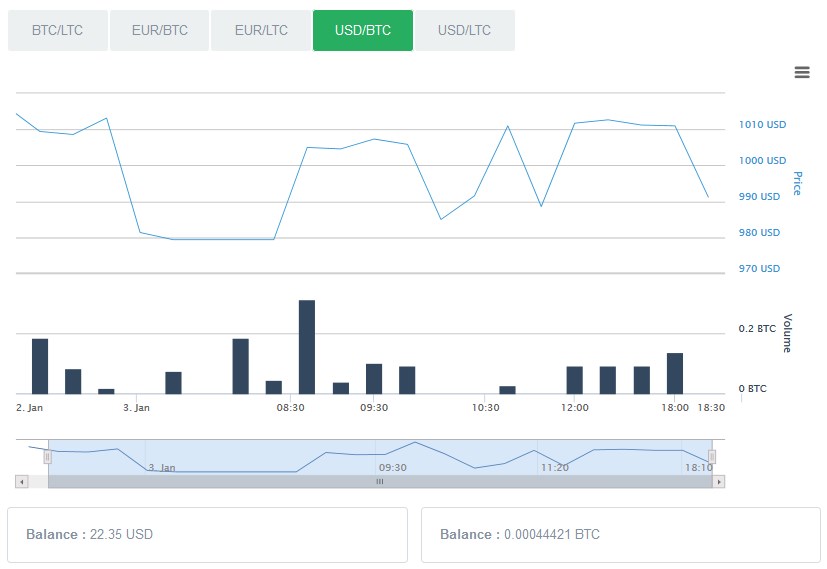 A FAQ section and rich documentation can also be of great use to you, should you wish to read more about the services provided. Of course, the videos can help. In addition, they have got an email address for you to send your inquiries fast and without any other problem. Finally, there is a special option for those who find a bug in the system to report it directly.
Cryptonit.net Review Bottom Line
Well, our review of Cryptonit.com has come to an end and it is now the time for the verdict. On the bright side, Cryptonit is a reliable, well established company from the United Kingdom, in operation since 2012.
This means that you will not be facing problems with the trustworthiness of the platform you are using. The multiple languages and the versatile payment methods can be really handy, although we would like to see credit cards used for both deposits and withdrawals – not just for deposits. PayPal is a wonderful alternative, though. The security is of high standards and their support is quite thorough.
On the downside, besides the non-use of credit cards for withdrawals of money, live chat is not available to the customers. The support over the phone is offered in English and Russian, but the site is offered in more languages than that. So, although they are definitely trying to optimize user experience, such differences do not do justice to all the customers.
All in all, Cryptonit.com is a very trustworthy option, if you are searching for an esteemed platform that covers financial transactions of multiple cryptocurrencies. It is a safe environment, where you can serve your needs and minimize the risk of anything bad happening online. With minor improvements, we would be talking about the top!
Go to cryptonit.net